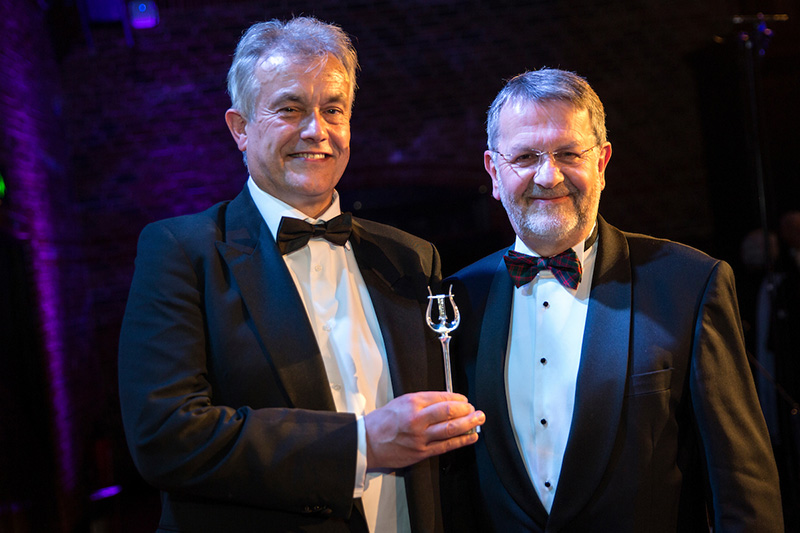 Lammermuir Festival Wins Royal Philharmonic Society Music Award - Lammermuir Festival
UK's Most Prestigious Classical Music Accolade
We are delighted to announce that Lammermuir Festival is the winner of the RPS Music Award for Concert Series and Festivals. The annual Royal Philharmonic Society [RPS] Music Awards, presented in association with BBC Radio 3, are the highest recognition for live classical music in the UK.
The Award was presented at an event at The Brewery in the City of London on Tuesday 9 May 2017, where Lammermuir Festival's Co-Artistic Directors, Hugh Macdonald and James Waters expressed their great pleasure:
"It's hard to believe that, only seven years since we sat around a kitchen table planning our first Lammermuir Festival, we have been given this wonderful accolade. It has been our great fortune to have the evocative landscape and beautiful buildings of East Lothian to inspire us as well as the joy of producing the festival with such a superb group of colleagues.
It has truly been a labour of love. We thank our funders both public and private for their continuing generous support, our performers for their great artistry and our enthusiastic audience who we have come to think of as family."
 The Lammermuir Festival was founded in 2010 and takes place each September.  In 2015 it announced pianist Steven Osborne as its Patron.  The festival was established to bring the finest musicians to the towns and villages across the picturesque and historic region of East Lothian in Scotland, and truly lives up to its strapline of beautiful music in beautiful places.  
It is proud to present Scotland's leading musicians and ensembles, as well as internationally renowned musicians and new talent from Scotland, the UK and abroad.
From the beginning, the Festival has been produced by a core team of four: Artistic Directors Hugh Macdonald and James Waters, Associate Director Abigail Carney, and Jane Nicolson.
Zoe van Zwanenberg became the festival's Chair in 2016. Her predecessor Jim Stretton was hugely instrumental in the creation of the festival, driving its highly successful fundraising and contributing greatly to its initial success.
Lammermuir Festival Chair, Zoe van Zwanenberg, also attended the Awards event and said:
"Having been a devoted audience member and volunteer helper at the festival for some years I am delighted and honoured now to be the Chair of this excellent festival. This award gives richly deserved recognition to the Festival and the extraordinary team that have created and sustained it. To achieve such recognition in such a short time is a measure of the quality of the Festival and the joy in brings to audiences, sponsors, staff and volunteers."
Awards, in thirteen categories, are decided by independent panels consisting of some of the music industry's most distinguished practitioners. The awards honour musicians, composers, writers, broadcasters and inspirational arts organisations.
The list of previous winners reads like a Who's Who of classical music. This year's RPS Music Awards celebrate outstanding achievement in 2016. The Lammermuir Festival is honoured to have been shortlisted in the Concert Series and Festivals category in the company of some of the UK's most established and respected organisations: Cheltenham Music Festival, the Philharmonia Orchestra and Welsh National Opera.
Both East Lothian Council and Creative Scotland have generously supported the festival over the past seven years and were delighted to hear the news of the Award.
Angela Leitch, Chief Executive of East Lothian Council, said: "
"This award is fantastic news and well deserved. The accolade is no surprise given the quality of its programme, the calibre of the musicians and, of course, the beautiful venues across East Lothian which host Festival concerts. East Lothian Council has been delighted to support the Festival from its early start and this commitment has seen the programme expand."
Councillor John McMillan expressed his personal delight on hearing of the award: "
"It is a richly deserved accolade for providing beautiful music in So many of East Lothian's beautiful places.There is more to come and I look forward to welcoming the award winners back to Haddington and hearing of their plans for September's Lammermuir Festival. Congratulations to all!"
Claire Hewitt, Music Officer, Creative Scotland said: "
"Congratulations to Lammermuir Festival on winning this prestigious award.  In the seven years since it was established, the Festival's artistic directors have sought out some of beautiful East Lothian's unique spaces as the setting for top-flight Scottish, UK and international artists to perform. 
Creative Scotland is delighted that the range and depth of the festival's 2016 programme – from the Dunedin Consort's thrilling interpretation of Monteverdi Vespers in St Mary's Parish Church, Haddington, to Red Note Ensemble's electrifying performance of Varese, Crumb and Andriessen beneath the Concorde – has been celebrated by the Royal Philharmonic Society in this way. 
Lammermuir Festival's nomination as the only Scottish festival in this year's Concert Series and Festivals category, alongside such renowned peers, highlights the vibrancy of Scotland's musical life which delights audiences from around the world."
For Additional Press Information and Images:
Jane Nicolson
07887 500977
jane@janenicolson.com
Notes to editors: 
This year's Lammermuir Festival is from 15 – 24 September, and full 2017 programme details and tickets will be available from 1 June.
A special programme dedicated to the RPS Music Awards will be broadcast on BBC Radio 3 at 19.30hrs on Sunday 14 May
The Royal Philharmonic Society citation read: "Beautiful music in beautiful places' is this festival's strapline. Lammermuir Festival is also beautifully curated. It features a wide-ranging programme, inspired by the historic architecture and landscape of its East Lothian location – whether hill folds or fields, fishing villages or market towns. And the very best of Scotland's artists are at the heart of its music- making."
Creative Scotland is the public body that supports the arts, screen and creative industries across all parts of Scotland on behalf of everyone who lives, works or visits here. We enable people and organisations to work in and experience the arts, screen and creative industries in Scotland by helping others to develop great ideas and bring them to life. We distribute funding provided by the Scottish Government and the National Lottery. For further information about Creative Scotland please visit creativescotland.com. Follow us @creativescots and www.facebook.com/CreativeScotland
Photo credit: Simon Jay Price